Vertical pressure leaf filter for vegetable oil
Filters of the brand ВНП (vertical pressure leaf) are designed for purification of technical and edible oils on the different stages of processing
Filters of the brand ВНП (vertical pressure leaf) are designed for purification of technical and edible oils on the different stages of processing:
– primary purification of vegetable oils;
– in lines of winterization of vegetable oils;
– in lines of bleaching of vegetable oils;
– separation of catalyst in the lines generating hydrogenated fat.
Vertical filters can be also used for filtration of other substances (non-aggressive to carbon steel).
The vertical filter for purification of vegetable oil represents a vertical vessel with a movable torospheric cover. It is installed on a movable rod and makes the vessel airtight after tightening the hinged bolts. The cover of the vertical filter is lifted by a special jack and removed to the side by a rotary bracket.
The function of the filter elements of the filter is performed by vertical steel plates installed in its body. Filter plates consist of 5 layers of steel mesh: 1 layer of frame mesh, 2 layers of backing mesh and 2 layers of filter mesh. Depending on the process on which the filter is installed, the filter mesh itself differs in weaving and material of manufacture.
Pressure filters have a number of advantages over outdated frame (belting-cloth) filters:
– filtering cloth is not used, instead of it high quality durable stainless steel mesh is used;
– automatic sediment discharge (vibrodischarge);
– simple service;
– no contact of oil with air means no icnrease in acid and peroxide index;
– minimal oil losses.
Technical parameters of vertical filters of the brand ВНП
Filter model

Technical parameter

ВНП-6

ВНП-10

ВНП-15

ВНП-20

ВНП-24

ВНП-30

ВНП-40

ВНП-45

ВНП-60

ВНП-75

Filtration area, m2

5,7

8,3

12,8

15,5

19

26,4

37,2

45,13

59,4

72,2

Number of filter plates, pcs

7

8

10

11

12

12

14

15

17

19

Capacity on the process of primary purification of sunflower oil (hot-pressed, with temperature 75-90 oC), tpd

10,4

15,2

23,6

28,0

35,0

48,0

66,0

80,5

107,0

135,7

Working volume, m3

0,52

1,0

1,35

1,6

1,95

2,4

3,5

3,7

4,8

7,35

Compressed air consumption (at 0.07 MPa) for sediment drying, nm3/min

1,2

2,0

2,6

3,2

3,8

6

9

9

12

15

Maximum cake volume, m3

0,12

0,2

0,26

0,32

0,38

0,65

0,9

0,9

1,2

1,5

Cake thickness, mm

20

Working pressure, MPa, not more

0,6

Test pressure, MPa

0,75

Working temperature, оС, not more

95

Weight of empty apparatus, kg, not more

560

710

900

1000

1100

1300

2000

2150

2960

3400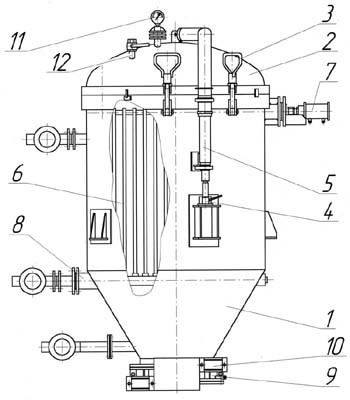 Схема фильтра ВНП:
корпус;
крышка;
откидной болт;
домкрат;
кронштейн поворотный;
фильтровальные пластины;
вибратор пневматический;
сборный коллектор;
донный клапан (затвор);
пневмоцилиндр;
манометр;
шаровой кран
Frequently Asked Questions about Vertical Pressure Plate Filter for Vegetable Oil
What is the capacity of a vertical vegetable oil filter?
The capacity of a vertical vegetable oil filter can vary considerably depending on the model and manufacturer.
How often should the filter element in the vertical vegetable oil filter be changed?
The frequency of changing the filter element in the vertical vegetable oil filter may depend on the type of oil used and the frequency of use.
What type of vegetable oil can be used in the vertical filter?
The vertical vegetable oil filter can be used to filter different types of vegetable oils such as sunflower oil, soybean oil, rapeseed oil and others.
What is the principle of operation of the vertical filter for vegetable oil?
The vertical vegetable oil filter filters the oil by means of a filter element that removes particles and other impurities from the oil. The oil passes through the filter element by a circulating pump and then flows into a reservoir. The filter element can be cleaned and reused.